Let Freedom Ring in Anaheim
There are countless fantastic Fourth of July celebrations in the Anaheim area, but one of the most famous is the fireworks show at Disneyland. Arrive early (by 7 p.m.) to get your spot for the 9 p.m. show and get ready for a patriotic display with fireworks set to music. Prefer a more relaxed way to catch the show? Head to The Fifth Rooftop Restaurant on the Grand Legacy at the Park for live music, a BBQ, full bar and the only non-Disney view of the show in town.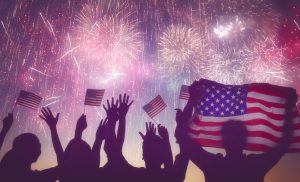 Aquarium of the Pacific showcases their red, white and blue fish at this family-friendly event. Get a unique view of the fireworks aboard the Queen Mary, and enjoy some fresh BBQ that highlights the tastes of the Pacific. It's the perfect choice to blend a little sightseeing with Fourth of July partying.
The Show Goes On
Climb aboard the Queen Mary for family games, live music, and historic tours. Relax as you enjoy a theatrical movie and get a front-deck view of the famous fireworks spectacular set to music. Located in nearby Long Beach, it's a favorite way to celebrate.
The Knott's Berry Farm show is another favorite that includes a marching band throughout the park from 2:30 – 5:15 p.m. Keep an eye (and ear) out for the Mountain Fife and Drum Corps with their patriotic music. The fireworks go off at 10 p.m., later than most others in the area, so you may be able to catch two separate shows.