Best Seafood Restaurants in Anaheim
Get a real taste of the Pacific by dining at the best seafood restaurants in town. Begin your gastro journey at California Fish Grill, located at 5675 East La Palma Ave. A small, favorite chain, it's known for seafood that's broiled and fried, along with fantastic fish tacos. A generous happy hour features an impressive menu from the bar and cocktails designed to pair with your favorite fish dishes.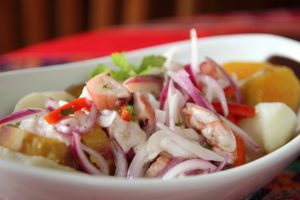 The Catch at 2100 East Katella Ave. #104 is an upscale chophouse known for their surf and turf pairings. It blends an elegant environment with a luxe sports bar vibe, offering something for everyone. Try their fried calamari or oysters on the half shell to start. Entrée favorites include pan-seared scallops, maple glazed Atlantic salmon, and ahi tuna tataki.
That's a Catch!
You'll find Submarine Crab at 10130 Garden Grove Blvd., Garden Grove where you'll literally dine under the sea. Casual and relaxed, it's famous just as much for its menu as its unique ambiance. Try the crawfish or Canadian crab, fresh clams and live oysters. Seafood pasta and Cajun coconut snail are both local favorites.
Crawfish Cave is open late, and you'll find it at 150 South Harbor Blvd., Fullerton. They're known for their happy hour and baked oysters, Cajun fries, and street corn for starters. Customize your seafood and shellfish with a variety of seasoning options, and don't forget to save room for their legendary garlic noodles.