Best Gelato in Anaheim
No end to summer is complete without sampling the best gelato Anaheim and the surrounding area has to offer. Keep cool at Tap Gelato in nearby Garden Grove, located at 10130 Garden Grove Blvd. Here, you'll find small house-made batches that feature staple favorites like decadent chocolate creations and light and fruity selections. Seasonal flavors are always changing, making every trip to Tap unique.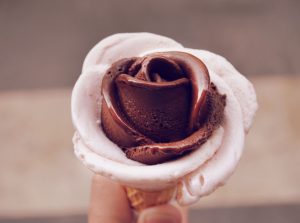 A short drive to Westminster takes you to Eiswelt Gelato at 9605 Bolsa Ave. Choose from the animal-themed options like the Teddy (three flavors), Pig (one flavor), and Panda (three flavors). Go for the German Waffle with four scoops of gelato, or the Waffle Pop that allows you to choose two from a variety of toppings. Flavors rotate, but may include black sesame, mixed berries, and classic chocolate.
Sweet Surprises
ROMA GELATO is located in nearby Placentia at 1837 E Orangethorpe Ave. Boasting five-star reviews, it's where authentic Italian flavors can be found in small batches. During the summer, berry flavors are highlighted and offset with traditional staples like vanilla bean.
Costa Mesa has Mangiamo Gelato Café at 650 Anton Blvd. where you'll find this local chain serving up sorbet and espresso alongside their namesake scoops. Made fresh daily, flavors might include banana chocolate chip, gingersnap, or green apple caramel. With 32 flavors to choose from, changing daily, you never know what to expect.
Where will you start your tasty journey?