Visit the Original Farmers Market
Think that once you've seen one farmers market, you've seen them all? The L.A. Original Farmers Market is open seven days per week and has been in operation since the 1880s. Four generations have managed this impressive operation, starting with the purchase of two dairy farms in 1880. Now, the heart of those dairy farms is on the corner of 3rd and Fairfax. It soon became a "village" where farmers sold their fare, and by 1934, over a dozen farmers and merchants parked on the corner to showcase their goodies from truck beds.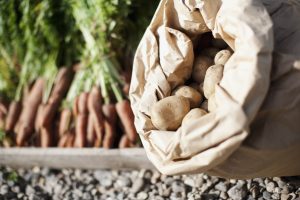 Just a few months after officially becoming a market, in October 1934, restaurants and grocers began moving permanent stalls onto the corner. The first official celebration, the Fall Festival, marked the beginning of a great tradition. Since then, it's been a favorite stop for tourists, but more importantly a staple for local families to load up on fresh, local groceries every week.
The Evolution of a Market
Hollywood and the Farmers Market have a long and passionate history. As early as 1936, Hollywood celebrities volunteered at the market to help raise funds for local organizations. Marilyn Monroe appeared as Miss Cheesecake in 1953, helping to open the stall for Michael's Cheesecake. The Beatles also made a stop, and Frank Sinatra had a connection with Patsy D'Amore of Patsy's Pizza.
Today, there are oodles of stalls, restaurants, grocers and live entertainment at the ever-growing market. Visit the Dragunara Spice Bazaar, Dewy Flowers and Light My Fire. Numerous eateries have popped up nearby, so whether you're craving a grab 'n' go option or dining al fresco, there's something for you at the country's oldest farmers market.