Things To Do In Los Angeles This Summer
Is there any place better than Los Angeles in the summertime?  Beautiful weather, beautiful sights, and just a hint of glamour.  Check out our ideas for some things to do while you're in L.A. this summer!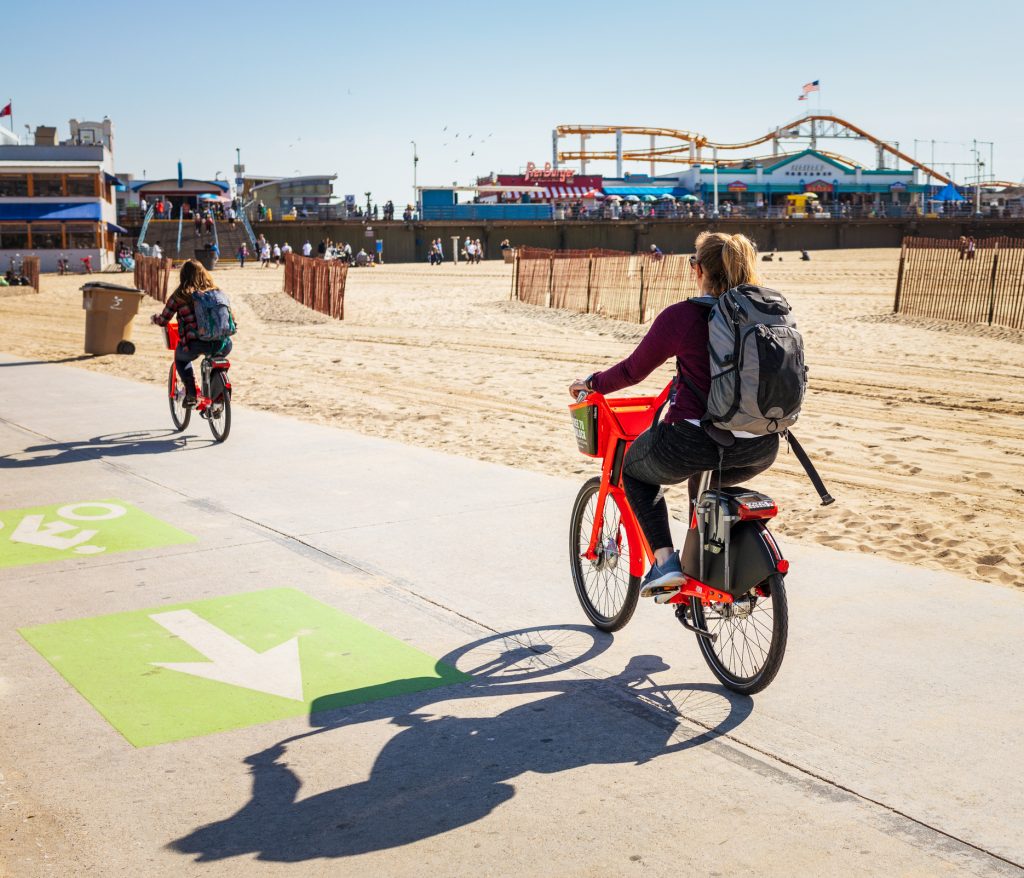 Try An Electric Bike Cruiser
701 1/2 S Pacific Coast Hwy, Redondo Beach, CA 90277
Website
You can even bring the dogs.  Go to Pedego Electric Bikes and rent (or buy) an electric bike and use it to explore Los Angeles.  Whether you stick to city streets or head outside of town for some scenic views, you'll love having a navigation system and the motor makes it easier to keep going on a long ride.  It's a really great way to see Southern California!  The Pedego Electric Bikes are available here – and enjoy the ride!
Watch A Movie With Hollywood Legends
6000 Santa Monica Blvd, Los Angeles, CA 90038
Website
Every week over the summer, Hollywood Forever Cemetery invites everyone to come watch a movie with Hollywood stars.  No, you're not going to run into George Clooney – the stars have already passed.  Bring flowers to the graves of people such as Mel Blanc (Looney Tunes), Judy Garland (The Wizard of Oz), or Fay Wray (King Kong), then spread out a blanket  and unpack your picnic basket before the film starts.  It's a thrilling experience and a great way to watch a favorite film.
Go Hiking At Paradise Falls
928 W Avenida de las Arboles, Los Angeles, CA 90038
Website
Enjoy the sunny weather by heading to Wildwood Regional Park and hiking to Paradise Falls.  The waterfall is absolutely stunning, majestic even, and the four trail options allow hikers of all skill levels to get some solid exercise.  Bring a lunch and make a day of it.  Along the way, you may see some interesting birds (Wildwood is a great place to do birdwatching) or you can stop by the caves on Indian Cave Trail.
Go To The Aquarium
100 Aquarium Way, Long Beach, CA 90802
Website
Did you happen to end up in L.A. on a rare rainy day?  Head to the aquarium and enjoy the water while staying dry.  It's huge and interesting, so prepare to spend the whole day there.  The Aquarium of the Pacific is very involved in marine conservation and the staff is more than happy to share their knowledge of marine life, difficulties facing the oceans, and how things can be improved.  Plus, you'll get to see frogs, seals, sharks, penguins, and so many more animals playing in amazing habitats.
Enjoy Those Summer Nights With A Block Party
943 N Broadway, Los Angeles, CA 90012
Website
This isn't your regular block party.  Taking place in Chinatown, radio station KCRW hosts the Summer Nights block party, complete with food trucks, a beer garden, a market, cooking demonstrations, and of course, music – live and DJ.  Explore the different vendors, then dance the night away!
Catch A Game At Dodger Stadium
1000 Vin Scully Ave, Los Angeles, CA 90012
Website
Is there anything more American than baseball?  Get tickets to a game at Dodger Stadium and enjoy a great ball game.  Don't forget to buy a hot dog – it's tradition.  Just make sure you wear Dodger blue to fit in with the crowd.  If you get lucky, maybe you'll even catch a flyball!
Get Healthy L.A. Style With Sloth Yoga
16027 Yarnell St, Sylmar, CA 91342
Website
Goat yoga is everywhere, but sloth yoga!  That is in Los Angeles.  The Wildlife Learning Center hosts sloth yoga classes over the summer, where participants can join Sid in stretching and moving very slowly, then do a photo shoot with him afterwards.  It's a good workout, a lot of fun, and sloths are adorable!
Dine At The Zoo
5333 Zoo Dr, Los Angeles, CA 90027
Website
Attend one of the Los Angeles Zoo's adult-only Sustainable Wine + Dinner events, where you get to see the zoo in a whole new light.  Each dinner features a different topic and experts who are more than happy to discuss with you the animals and their work.  You'll get to meet animals up close and personal, and enjoy a delicious menu specially curated for each topic, as well as carefully matched wines.  It's a lot of fun and a great way to go out with friends or a significant other.
Enjoy An Evening Under The Stars
2800 E Observatory Rd, Los Angeles, CA 90027
Website
Go to a Public Star Party at Griffith Observatory, and use their powerful telescopes to view the sky.  Astronomers abound at the events, ready and willing to spread their knowledge, tell you exactly what you're seeing, and share an interesting fact.  It's a beautiful way to spend the evening, fun for the whole family, and educational for the kids (and you, too).
Enjoy everything Los Angeles has to offer during your visit!