The Japanese Garden
Take some time out to enjoy the incredible Japanese Garden, located at 6100 Woodley Ave, Van Nuys. Open Mondays – Thursdays from 11 a.m. – 4 p.m. and Sundays from 10 a.m. – 4 p.m., you'll feel whisked away to Japan to enjoy gorgeous imported plants and landscaping, meditative paths, and an impressive gift shop. Admission is $5 for adults and just $3 for children or seniors. It's best to visit during weekdays or right at openings hours since the park admission is capped to ensure visitors have a relaxing experience.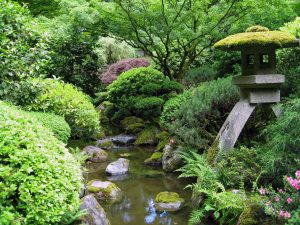 Many are surprised to find the oasis in the middle of the otherwise busy San Fernando Valley. It covers 6.2 acres and is technically three separate gardens. Designed and curated by Dr. Koichi Kawana, the dry Zen meditation garden, or karesansui, features Tortoise Island and stone Buddha arrangements as well as a wisteria arbor.
What You'll Find
The Chisen, or wet-strolling garden, is full of streams, lakes, waterfalls and stone lanterns crafted by Japanese artists. There's also the Shoin Building here, showcasing a 4½ tatami mat teahouse and tea garden. It's no coincidence that The Japanese Garden is right next to the water reclamation plant—it's meant to show how reclaimed water can be used well in delicate spaces.
Every single detail in the garden is well thought-out. However, it also complements the surrounding modern life. The style is "Chisen-Kaiyushiki," which means "wet garden with promenade" and is indicative of feudal lord estates of the 18th and 19th century.
Come discover what you'll find in this slice of paradise.