St. Paddy's Day in L.A.
Nothing beats Los Angeles for a massive holiday, and the city goes all out for St. Patrick's Day. With plenty of Irish pubs in town, you'll need to pace yourself—or start the weekend with a less drink-centric event. The Hermosa Beach St. Patrick's Day Parade takes over the coastal town with Irish marching bands, green-decorated cars and plenty of bagpipers. You'll even be charmed by a brigade of Irish Setters from the local club during this seven-block festival.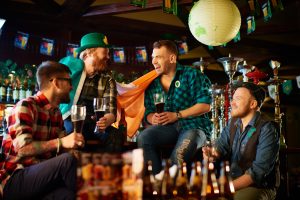 At Rock & Reilly's Annual St. Paddy's Day Block Party, you'll have a full afternoon of green beer, dancing and music behind the popular Sunset Strip bar. With eight bars on deck for the event and 100+ kegs of Guinness and Bud Light, you know a party's brewing. Fuel up on Irish nachos and corned beef sliders between pints.
Feeling Green?
Others prefer to start the morning bright and early with the St. Patrick's Day 5k at Redondo Beach. The run/walk starts at 8 a.m. with a Little Leprechaun Dash at 9:30 for the kids. It kicks off where Catalina and Elena Avenues meet.
The St. Patrick's Day party at Tom Bergin's is one for the record books, but this one goes from 6 a.m. – 2 a.m. The staple Irish pub boasts the best Irish coffee in the area, and you can tuck into a classic Irish breakfast Saturday morning before the festivities again. Head to the Guinness truck, brush up on your beer pong skills, and ease yourself into Irish car bomb territory.