Santa Monica and Other Nearby Destinations for Summer
Santa Monica epitomizes California breezy beauty and now you can stay a short drive from paradise with this Los Angeles hotel. The Best Western experience gives guests a good peppering of luxury and perks on top of a fabulous location. There's no need to break the bank for a fantastic vacation.
Best Western is well known for dishing up the most scrumptious breakfast around. Indulge in a complimentary spread of scrambles, off-the-griddle waffles, and a buffet of flaky pastries, seasonal fruits, cereals, and 100% Arabica coffee. Now that's how you get the morning started off right.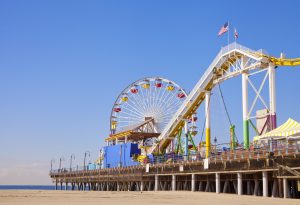 The famous Santa Monica Pier and golden beaches are only a short drive away – so make sure you pack your suit and oversized hat. You'll be living the Hollywood high life in style. This is a prime spot for a vacation with the kids (or simply for those who are kids at heart).
Tinsel Town might be all about the glitz and glamour at night, but during the day the warm Pacific reigns supreme. Take a cue from real estate moguls and go for the location. Don't worry, there's no shortage of comfort here. World-class service in a fully non-smoking hotel ensures that your stay is as cozy as possible.
Free Wi-Fi and an on-site fitness center keep you entertained and looking like the knockout that you are. Some of the best shopping and dining options are just around the corner, so what are you waiting for? Reserve your beach-side room today. Book with confidence. Whether you're beach-bound, a thrill-seeker, or more of a city gal, you'll be in the heart of the action here – with plenty of peace and quiet when you want it. Best Western's influx of complimentary perks doesn't hurt, either.