Page Museum
Ever wondered just how big a woolly mammoth was? Check out these reproductions of mammoths stuck in tar pits before heading inside to discover dinosaur fossils dug up from local sites. The Page Museum is located at 5801 Wilshire Blvd., and it's an absolute must for families, dinosaur lovers, or anyone looking for a unique date or way to experience Los Angeles.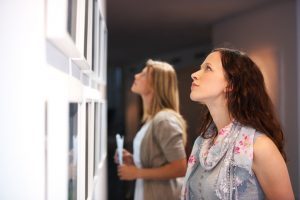 Tucked next to the La Brea tar pits, it's a destination that's often shrouded in the shadow of the more well-known pits. However, if you're planning a day "in the pits," make sure you carve out enough time to head indoors. After the Ice Age creatures are excavated, they're brought inside where you can see paleontology in action.
Life in the Pits
Head to the fossil lab and see how real paleontologists find, identify and research fossils. Check out Ice Age Encounter, a multimedia show that goes deep into the past to display what L.A. 10,000 years ago was like. The 15-minute show features a to-scale Saber-toothed cat puppet.
New exhibits are always popping up as fresh discoveries are made. However, permanent exhibits include bison, mammoths, condors, coyotes, the ground sloth and many more. Sign up for a tour and get to know a little more about the over one million fossils on site before heading to the atrium for a relaxing, gorgeous space to wrap your head around it all.