MLK Jr. Celebration Planning Guide
Some of the best MLK Jr. Day celebrations in the country. Enjoy complimentary museum entry at many locations around California, and check out the 30th Annual Martin Luther King Jr. Peace and Unity Parade in Long Beach. The parade starts at 10:30 a.m. on the corner of MLK and Atlantic with over 25,000 attendees flocking to the beach for the celebration every year. The party continues until 6 p.m. with a carnival, live performances and more!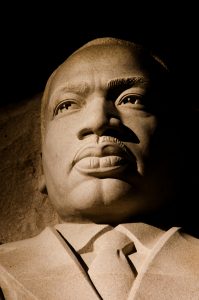 The biggest parade in the country is the 33rd Annual Kingdom Day Parade, which is also televised. It starts on the corner of Crenshaw and MLK Jr. Boulevard. From 11 a.m. – 1 p.m. you can join thousands of others, keep an eye out for celebrities, and enjoy some of the most impressive floats imaginable.
A Weekend of Service
The Cake for King Celebration at the California African American Museum is a favorite tradition for many. The event takes place from 10 a.m. – 5 p.m. with sermons, speeches and fun activities for all ages. Immersive arts and crafts, live music and some of the best food trucks in the city help make this memorable event special. Of course, you'll also be treated to a slice of cake in commemoration of Dr. King's birthday.
Looking for a more relaxed way to celebrate with little ones? Head to Kiddie City MLK Day's Celebration in Leimart Park starting at 3 p.m. Admission is $15 and includes plenty of fun games and activities to keep children entertained. Drum parties, arts and crafts, raffle prizes and snacks are part of what you can expect.
Where will you go first?