Have You Tried Voodoo Doughnuts?
As a foodie city, locals were skeptical when Portland, Oregon's famous Voodoo Doughnuts decided to open, not just in L.A., but at Universal Studios. Voodoo has taken the world by storm and has been featured on a number of television shows. Famous for their "C&B" (those who are curious can look up that acronym), the Memphis Mafia fritter with bananas, peanut butter and extra glaze, as well as the Dirt Doughnut with Oreos has spread from Oregon to Colorado and Japan before landing in L.A.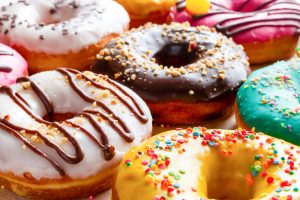 Voodoo is simple, very sweet, and known equally for their mottos and doughnuts. "Good things come in pink boxes" and "I got VD in LA" are just a couple of their mottos on mugs, stickers and shirts you can pick up. All doughnuts are fresh, don't skimp on the glaze or frosting, and come with a side of attitude.
Worth the Weight
Voodoo doesn't do gourmet, upscale or expensive doughnuts. Instead, you just get fresh, ooey gooey goodness. The lines can be long, and it's cash only, but with most doughnuts being under $2 and ATMs on site, it's not a huge inconvenience.
Try the Voodoo challenge and eat a Tex-Ass in under 90 seconds to get it for free (and a lifetime of fame/shame). Choose the Fryer Flyer dozen if you just can't pick, or go vegan if that's what you prefer. Many of the doughnuts are available in vegan form, but just don't spell it "donut." That's part of the reason the founder Cat Daddy created this establishment: to get doughnut spelled correctly again.