Best Burgers in L.A.
It takes a serious burger to impress such a foodie town, but Los Angeles has no shortage of burger feats. Check out the offerings at Cassell's Hamburgers inside the Hotel Normandie, where the famed B'fast Burger makes waves with an avocado, crispy hashbrowns, fried egg and spicy mayonnaise on a hand-pressed patty.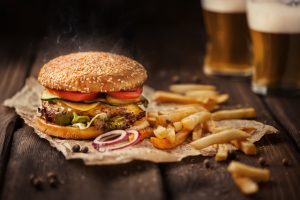 Hawkins is a classic for staple comfort food and burgers. With its own burger menu, you'll need to try the Fat Egg Chili Cheeseburger, Fish Burger and Turkey Burger. The all-day special gives diners a burger, fries and a drink for just $4.99. The menu is massive, so tackling Hawkins will take numerous trips (not that any L.A. vacationers are complaining!).
The Classic with a Twist
The Apple Pan has been dishing up burgers since 1947. The Steakburger comes with house sauce, pickles, lettuce and mayo. You can add malted Tillamook cheddar, or if you're really craving some comfort, double the patties. The Hickoryburger features a special spicy sauce. Make sure you save room for the addictive fresh apple pie.
Capitol Burgers is an old-school window joint known just as much for their pastrami and shakes as their homemade burgers. Umami is a lively chain out of Texas that pairs craft brews with their epic burgers. From falafel patties with tzatziki to the Royale with braised short ribs, unique twists on Americana fare is at the heart of Umami.