Best Western Rewards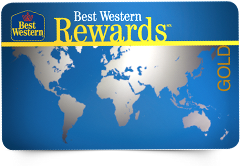 Want to be rewarded for staying at the most comfortable, welcoming hotels around the world? Best Western is a brand steeped in service, and this Globe Best Western property is no exception. The Best Western Rewards program is free to join, and members begin earning points right away.
Collect points with every hotel stay as well as through partner offers and special promotions. There are over 4,000 qualifying hotels around the world, from the US to Kazakhstan and everywhere in between. Plus, it only takes a few seconds to enroll so you can be on your way and earning points from your very first night. US News has recognized the Best Western Rewards program as one of the top hotel loyalty programs around the globe. Convenient, easy and fast, it's as necessary for frequent travelers as a perfectly sized carry-on suitcase.