Visit the Globe Historic District
The charming historic district of Globe features a stream of antique galleries. Situated in downtown, collectors, art buffs and history geeks all find something to enjoy. Take in the architecture of the original buildings, or slip into one of the mom-and-pop restaurants for homemade comfort food. Globe is spilling over with small town appeal, and the historic district is at the heart of it all.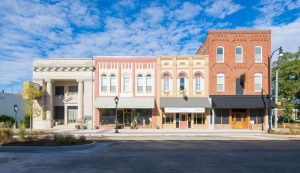 Many of the buildings date to 1900, and you'll find the most activity on Saturday afternoons. Historic churches crafted with native tufa stone pepper the area, and the vintage movie theater is an homage to the cinematic heyday of the 1950s. A number of visitors, and locals, to Phoenix and other driveable metros head to this quaint sliver of Globe for a getaway.
In With the Old
Dubbed "fun and kitschy" by Trip Advisor reviewers, the historic area provides easy access to Salt River Canyon, the Pinal Mountains and Roosevelt Lake. If you're looking for a pleasant stroll in a neighborhood rich with character and hometown customer service, nothing compares to the original Globe downtown area.
Stop by the museum, the nearby chamber of commerce, or one of the pubs and saloons for a relaxing weekend escape. Bring the camera, and come prepared to unearth treasures in one of the many antique shops and collectible stores.