Tips for Packing Light at This Globe Hotel
As airlines get pickier with luggage sizes and weights, it's more important than ever to master the art of packing light. Luckily, at this Globe hotel, that's easy! As a business-friendly hotel, you'll be able to slip right into one of the meeting rooms or the business center and have everything you need for a professional trip. Plus, in Globe the temperature almost never dips below 63, even in November, so you can leave your bulky sweaters and jackets at home.
Dress in layers that you can mix and match, and know that the laid-back atmosphere of this region means you won't see many suits and ties. Instead, dress lightly and for comfort. Linen pants, sun dresses, and short-sleeved button ups are go-to outfits year-round. Roll your clothes to minimize wrinkles.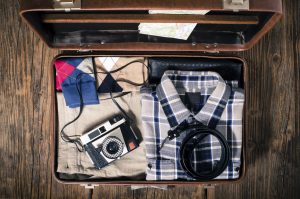 Lighten Up
You won't need many accessories in Globe but don't forget the sunscreen, sunglasses, and a favorite hat to protect you from the rays. There are plenty of boutique shops and antique stores in historic Globe, so leave room in your luggage for souvenirs.
If you do need anything, ask your friendly Copper Hills Inn staff. Everything you need is likely available at the front desk and with this convenient location, even tough to find items aren't far away.