Thanksgiving Feasts Near Globe, AZ
Traveling during the holidays? Don't miss out on a delectable Thanksgiving meal while you're staying in gorgeous Globe, AZ. The Copper Country Rendezvous Restaurant dishes up traditional American fare for breakfast, lunch and dinner and is walkable to historic downtown's gorgeous antique shops. Home to the famous Gila Monster Hot Dog, it's a slice of Americana where comfort food comes first.
Judy's Cookhouse is one of the few restaurants open on Sundays in Globe, and every November an impressive seasonal menu debuts. Renowned for breakfasts and generous portions, this family owned and operated business gives travelers a taste of home during the holidays.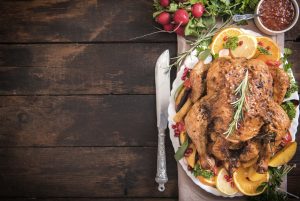 Giving Thanks
For a truly American Thanksgiving with a side of irony, head to China Taste for an endless Asian and seafood buffet fit for the record books. Complete with fantastic service, amazing desserts, and where "all you can eat" is a true challenge, you'll never leave this local favorite disappointed.
Another option is Jumbo's Chinese Restaurant, which gives China Taste a run for its money. However, if you really want to bring the holidays to you, depend on the friendly staff at Copper Hills Inn. The halls will be decked, the coffee piping hot, and you'll always feel like you're staying with family (who just happen to have an incredible guest suite!).