Round Mountain Park
Hiking, picnicking, birding and more can be found at nearby Round Mountain Park, located off Highway 60 at the end of South Street. There are five hiking loops for all ability levels, whether you want a short stroll or a serious trail run. For expert hikers and runners, some rocky terrain will offer a challenge. In the summer, wildflowers spray across the mountain while you trek along the desert setting. On these 386 acres and 6.7 miles of trails, you'll find gorgeous vistas, ramadas for a lunch break, and a visitors center with maintained restrooms.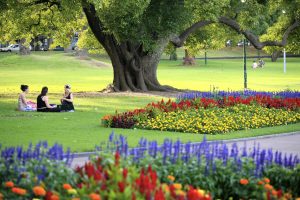 Originally, the UA Landscape Architecture program designed the park in 1997, but it has been updated via service organizations, volunteers and the City of Globe throughout the years. Bull's Eye Rock Loop Trail is a short 0.36 mile hike ending in a lovely picture-taking spot. There's also the brief Prospector's View Trail at 0.16 miles which leads to the picnic ramada.
Challenge Yourself
Ridge Trail is the newest hike, added in 2010, which loops from Boulder Canyon Trail northeast with a side loop option taking you 0.23 miles, or 0.41 miles depending on your preference. Box Canyon Trail also begins at Boulder Canyon Trail before veering off at just 0.03 miles to the Juniper Tree Rest Area. You can keep going south 0.52 miles to Ridge Trail or 0.28 miles more to East Trail Point.
Try West Round Mountain Trail, East Round Mountain Trail or Boulder Canyon Trail for even more stunning vistas and terrains. Ask a locally owned restaurant in town to pack a picnic for you, and make a day of it at Round Mountain Park.