Rockin' Taco Street Festival is Here
On September 17, head to nearby Chandler, AZ for the biggest taco fiesta in Arizona! Just over an hour's drive from your Globe guest room, it's non-stop tacos from noon to 9 p.m. at the HDE Agency. Tickets start at just $6, and there's an option to upgrade to VIP taco status. Come for endless margaritas, tacos, beer, activities, fun, and more tacos! The southwest knows how to do street food right.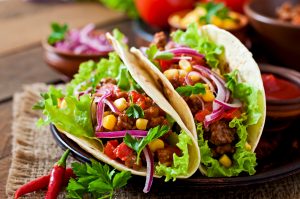 Creative tacos are a scene stealer with shrimp, carne asada, veggies and chicken as just a few of the headliners. Scores of Arizona restaurants battle it out for the gold, including the renowned People's Choice Award. Nothing goes better with tacos than tequila tastings, massive margaritas, fruit fresca and Mexican cervezas.
More Mexican!
You'll also find churros, Mexican paletas and candies, elote and more treats from south of the border. Watch a lucha libre wrestling event, or check out the low-rider car show. There are taco eating competitions so you can show off your skills, a salsa competition to crown the spiciest chef, Chihuahua races, and ballet folklorico dancing.
Kids have a blast in the niño zone, and the piñata party can't be missed. Get your presale tickets now, or pay just $10 at the door. With $65 VIP admission, you get six alcoholic drinks, catered food from Cantina of Chandler and El Palacio, front stage access, private seating and private restrooms!