Luminarias in Globe
If you thought Globe couldn't get any more beautiful, you haven't experienced the luminarias at the Besh Ba Gowah Archaeological Park. On December 18, the annual Festival of Lights kicks off at the local park, where you're welcome to join and take in the beauty of scores of lit luminarias around the nature reserve. Admission is always free, and you'll see many photographers angling for the best photos. Luminarias have a knack for helping photographers snag some of the best pictures—and awards.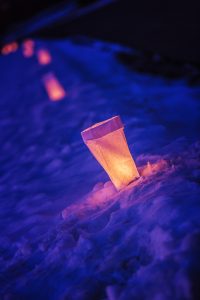 Last year, photographer Trish Gunther snapped some early photos that resulted in showcasing the real beauty of Globe. This year, there's no telling if stunning clouds, a beautiful sunset, or another natural wonder will complement this beloved festival.
A Night of Wonder
Hot cider, cookies and coffee are available as live music streams from the stage to set the tone for this magical evening. Santa will also be available for photographs and, of course, for taking wish lists. Bring the entire family for an intimate night of holiday celebrations, and create your own new tradition.
The park is just a five minute drive from downtown Globe, located at 1324 South Jesse Hayes Road. Donations are welcome, but in keeping with tradition, the event means regular park fees are waived.