Local Fireworks in Globe
Every year, the city of Globe hosts a fireworks display at 9 p.m. reminiscent of old-fashioned Fourth of July celebrations. Gather in the heart of downtown for a community experience or head to the outskirts of town where the fireworks go head-to-head with the Arizona sky for a light show like no other.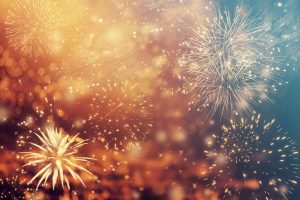 Globe-Miami is a hub for Native American culture, the history and romance of the "Territorial era," and there are boundless outdoor recreation options nearby. Friendly local residents help to make this a summer and Fourth of July you'll never forget. Spend dusk strolling through downtown, checking out the historical buildings, cottages and homes nestled on the hillside. It's easy to imagine what life was like here a century ago—complete with patriotic festivities.
A Taste of Patriotism
Local restaurants, including Judy's Cookhouse and Cooper Bistro, offer special Independence Day options to help you celebrate, like the all-American apple pie. Ask any of the local establishments to pack you a to-go picnic, and spend Fourth of July under the stars for a relaxing celebratory outing.
Enjoy an all-American holiday in one of Arizona's most charming of towns.