History of Globe
Globe is derived from an Apache word meaning "place of metal." For a population under 10,000, the small town has a rich history and is the county seat of Gila County. Founded in 1875 as a mining camp, it's become a tourism hub and retirement retreat in recent years. In 1987, the Globe Downtown Historic District was added to the National Register of Historic Places, and Globe offers a variety of historic buildings.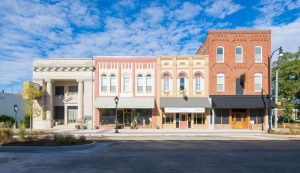 Globe totals just over 18 square miles, and it's just 6 miles from Miami. The semi-arid climate means hot summers and warm winters, making February a prime time to visit. Elevation helps temper the climate, and Globe enjoys a little more rainfall than Yuma and Phoenix. However, summers can reach up to 100 degrees, and winter temperatures average 60 degrees.
Globe's Past
Plans to incorporate Globe began in 1876 with banks and shops as well as the town's first newspaper in 1878. It became a stagecoach hub to Silver City, but remained largely frontier thanks to its relative solitude from other towns. There's a history of outlaws, stagecoach robberies and clashes with local Apaches in this Wild West town.
Apache Kid and Geronimo were once in Globe, and you can see some of the town's history in its remaining buildings. Visit the Gila County Courthouse built in 1905, the famous Drift Inn Saloon established in 1902, the Elks Lodge building (the tallest three-story building in existence), the Woolworth Building dating to 1916 and the remains of the Old Dominion Library.