Globe's 4th of July Extravaganza
Celebrate Independence Day with the kind of old-fashioned, family friendly parade and fireworks display the lucky few experienced in their youth! Globe is the perfect place for a charming, small town festival for the summer holiday. Located in historic downtown Globe from 7-10pm, the Globe-Miami Chamber of Commerce and Cobre Valley Center for the Arts hosts an annual parade that's the highlight of the town's Summerfest.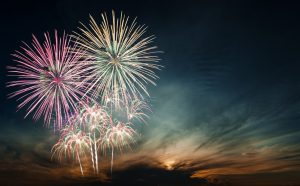 A patriotic day, honoring the American flag and celebrating with friends, family and neighbors, is a long-standing tradition. Decorate your car, your pet, your bike or yourself, and go all out with the red, white and blue. A night parade ensures the summer heat won't be a bother, and it's a fantastic way for floats to shine bright.
Let's Celebrate!
Many of the downtown shops and restaurants offer Independence Day specials including red, white and blue desserts and happy hour specials going all night. Bring the whole family to the festivities and see what American tradition looks like first-hand.
The only annual fireworks show in Globe is sure to delight. Don't forget the camera, and consider bringing a lawn chair to claim your spot on the parade route!