Get on "Top-of-the-World"
A short drive from Globe is Top-of-the-World, a census-designated area with a population hovering around 200. Located in the eastern part of Pinal County and along US Route 60, it's just 15 miles to Globe and 8 miles to Superior. The town is just 6.1 square miles, and it's a popular day trip simply for a social media "check in" and to tell others you've been to the top of the world.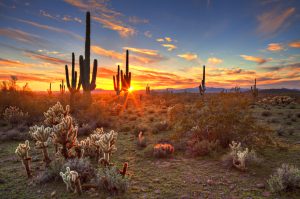 Located 8 miles from Miami, the town divides Miami and Superior at 4,600 feet. Also known as Pinal Ranch, with "pinal" being Apache for pine (an homage to the pine groves in the nearby mountains), Top-of-the-World is a one-of-a-kind little community. It was abandoned in 1871 by the army just one month after being named Camp Pinal. This was due to the Camp Grant Massacre, and many posts in the area were deserted. However, Top-of-the-World trudged on.
"World" History
Soon, Craig Ranch was built on the old Camp Pinal site by Mr. Irion and the Craigs. The ranch was maintained throughout the years and stayed in the Craig family until the 1970s. In the 1920s, the Top-of-the-World dance hall kicked off, and it remains a lively space for social get togethers in the area.
With a relatively high percentage of Hispanic, Latino and Native American households in the community, Top-of-the-World has sustained a thriving yet small charm that attracts visitors from Globe and around the country. What will you discover here?