Copper Country Rendezvous
Discover this Globe gem located in the historic downtown neighborhood where eating meets competing. This family-friendly restaurant features foosball, dart, billiards and even slot car tracks. Slip in for a quiet game of chess or checkers, or bring the kids to the toddler's play area where classic games like Skittles are found alongside the latest digital slot tracks for kids of all ages.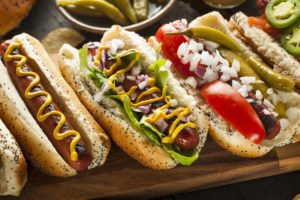 The culinary team includes Phil Smith, hot dog and "sammich" artist. He's committed to blending proven techniques with innovative twists, coming up with beasts like the Gila Monster. From his sweet rolls and biscuits baked fresh daily to the one of a kind chili and dips, there's something for all. Lori Smith is the patisserie queen, whipping up baked desserts and goodies for the past 30 years.
What to Order
The Rendezvous is famous for breakfast, massive lunch buffets and comfort food for dinner. Try the biscuits and gravy, French toast, waffles or breakfast sammies. Hot dogs with eclectic toppings, homemade soups and massive salads with 28 optional toppings make the perfect lunch.
Dig into the deep fried delights, the addictive boneless BBQ wings and the huge soft pretzels before heading into game mode. Mac 'n' cheese wedges, sweet potato fries, deep fried green beans and onion scoops are local favorites. Try the sweet corn nuggets or an ice cream soda float, and you'll see why this is where everyone meets to "rendezvous."