Coming Up: MessyFest
Have too much fun at the messiest event of the year!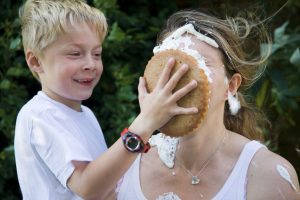 Globe's MessyFest is the wildest, messiest festival you'll find, and you are not going to want to miss it!  Held at the Horseshoe Park and Equestrian Centre, come help raise money for Childhelp, a non-profit that works to help child abuse victims.  Three sessions will occur, with two morning sessions from 8 AM until noon, which are open to all ages, and one Saturday night session, from 5 to 10 PM, for adults only.
If you haven't been to MessyFest, you're in for a treat.  The event is designed for attendees to let loose, ignore convention, and embrace having fun without worrying about being neat.  Activities include a color run, a foam dance, and even a food fight!  All the things that your mom always told you not to do – now you have the chance to do them!  Play tug of war over a mud puddle, get dunked in slime, go down the ice cream slide – it's all going to be available.  Very little kids may be too young for some of the activities, but they'll have a blast in the Kiddie Corner.  There, they will have the chance to make mud pies or pain with their food – hopefully, they don't take the habits home.
With all the energy you'll be expending, you're going to get hungry, but fear not, food will be readily available.  From barbecue to shaved ice, you can fill up and cool down, and a bit of coffee will get you ready for round two on the field.
At the end of the day, run yourself through the human car wash so that you don't get the car dirty.  Even cleaning up will be fun at MessyFest!
Have fun at MessyFest while you're in Globe and continue the fun at one of our nearby amusement parks!